so i had a pretty fu spring break (hah aim fun)
On Mon. Nelly and I went to Moun High alone!
On Tues I went to Mount HIgh with Kevin, Jeff, mark, Ann Ann, Abe, kenny, Jo, and other people...lol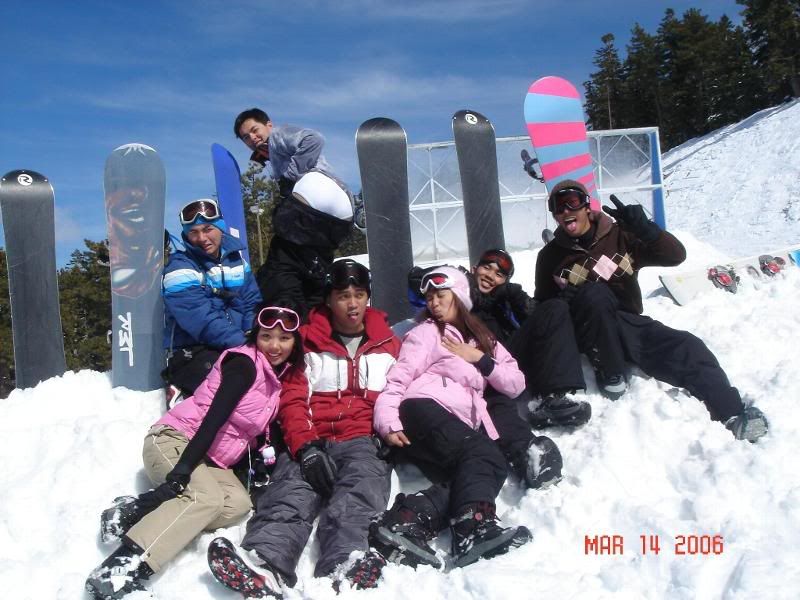 That night I drove to San Jose to visit my sisters... I miss them.... i had to do al the driving because my poor baby KEvin was sick.....
I stayed at Mimi's place witll friday morning...where I got to watch Joshie for a whole day. Kev and I took him out to a waffle house...and it was like we had our own baby..haha.. a very spoilned one! because his backback had three gamboys, and a potable sony dvd player....... lol ..the waitress lol...was surprised...
I made it back to San Diego and kevin did all the driving this time. I took a nyquil before the trip so i slept through most of the tri[p!! haha he said i cheated! lol!
San Diego...ther was my roomate, Nellida's 25th birthday!!1.... i made red rice... but they prepared other stuff like bbq rid, pasta, and pootoo.....yummy meall...
i woke on saturday morning and i gargled tequila to help my sore throat! lok dont try it! i ended it gaging in the middle of it! lol
then i worked at PETCO park to be a security gaurd for Elit SHow services! hehe yeah i was a security gaurd and stuff... it was fun! stadnign there with my legs shoulder width apart and my arms cross...oh yeah..i got the party..u cant come in the VIP party without me saying yes...
then i had to run in my car go home!!! and get ready for hte big PARTY!!! the how sweet it is partY!!!! hhe i was a kitty kat..!!!! yay!! kevin drove and when i got to he line i fellt like elle woods in legalyl blonde... when she was th eonly one in a bunny costume..but then everyone toldme i was pretty... and everyone wanted pictures with me! heheheheh.... so of course i loved what i wearing!!!!!!!!!!!!!!!!!!!!!! (jsut to tell u i pressed those excalmation marks on a beat)....(again...)1!!!!!!!!!!!!!!!!!!!!!!!!!!!!!!!!!!!!! lol.... yup i had a lot of fun! my pictures are posted on a private webpage! hahaha
LIGHT SHOW::::